Knowing the smartest ways to buy a car can make a world difference and help you save money down the line. Below you will find the best tips to help you get the best deals and reduce the amount of stress that involves purchasing a car.
1. Focus on the total price of the car, not the monthly payments
When you're dealing with a salesperson, most of the time, the discussion will be around the monthly payments. Monthly payments are a number we easily understand and how we mentally budget while we're car shopping.
You need to remember though, that the total cost of the car matters more than the monthly payment. Try to stick to this question: What is the total, out-the-door price of the vehicle with all the fees and taxes? Search for all of this information on the documents you are signing and analyze it. You could be surprised by how much of a bargain you're not getting.
2. Find out how much you're paying on interest 
It's crucial to ask how much your loan will cost in interest. The higher the interest rate, the more interest you'll pay. One percentage point can make a huge difference. Manufacturer websites are helpful and effective at comparing different payment scenarios, changing the term financed, and looking at the difference between financing and leasing.

When you do this, you might notice that choosing a smaller car model doesn't make the payments that much smaller. That's because manufacturers are not keen to offer reasonable interest rates on cheaper models. Rates on smaller, more affordable cars can be two or three times higher than bigger cars. Ideally, no matter the vehicle's size, you'll choose not only the lowest rate but also the shortest loan period.
3. Get pre-approved for a loan before car shopping
Many people obtain financing from a car dealership, but this is not always the best idea. Dealership interest rates are typically higher than rates from banks and credit unions. 
See if you can get preapproved for a car loan from your bank, a credit union, or an online lender–you may even obtain discounts that you won't get at a dealership. Make sure to shop around for the best rates. 
Before getting approved for a loan, make sure to check your credit score. You don't want to be charged more for interest rates than you should be based on your creditworthiness. You can use tools like Credit Karma to get an idea of the interest rate you're likely to qualify for. 
If your score is lower than you need it to be to qualify for the best rates, consider waiting to buy the car and work on improving your credit and paying off debt. You can also use RentReporters to improve your credit score. RentReporters help renters improve their credit by reporting their monthly rent payments to the major credit bureaus.
Once you're ready and have your quote from the financial intuition of your choice, present the quote to the car dealership and use it as leverage to negotiate a lower, better interest rate.
4. Beware of long-term car loans
A long-term loan is considered a loan that's longer than five years. Getting a long-term car loan means lower monthly payments, but it also means that you will be paying a lot more money in interest as they have higher interest rates. 
A loan longer than five years is dangerous. If you want to sell your car because you can't afford it, or you now want a minivan instead because you have kids, with a long-term loan, you are much more likely to be stuck still owing more than the car is worth. 
If anything, it's better to go with a five-year loan for a new car, and with a used car, you should finance for only three years. One reason that makes sense is that if your used car breaks down and isn't worth fixing, you're more likely to have paid off the loan by that time. It makes sense to get a five-year loan for a new car because the payments aren't too high, the vehicle will most likely be in excellent condition, and there will still be value in the vehicle at the end of the five years.
5. Don't buy any add-ons at the dealership
The dealership will try to sell you all sorts of things, from extended warranties, tire protection plans, and paint protection plans to something called gap insurance. Most items are often overpriced, and most people have no idea how to figure out a fair price. Is the add-on marked up by 200%? 
You won't really know. The only thing to know is that dealerships make a lot of money on these add-ons. It's better to say no to everything they offer you even if the salesperson tells you, "it's only a little bit more money per month." Everything adds up, and buying a new car is already a huge purchase that you will be paying off for the next several years. If you finance the vehicle, the overall costs for accessories will skyrocket. Most of the add-ons they offer you don't need, and if you do, you can find them cheaper elsewhere.
6. Keep it short and simple at the dealership
When buying the car at the dealership, try to keep it short with the salesperson and focus on one thing at a time. Buying a car is like a game; you want to play your cards right and not let the salespeople see your hand. It's best to start first with the price of the car you're buying. The salesperson will often ask if you're trading in another vehicle and whether you're looking to get a loan through the dealership. Try not to answer any of those questions. If you negotiate an excellent purchase price on the car, they might raise the interest rate to make extra money or lowball you on your trade-in. A skilled salesperson can juggle all those factors in their head at once, so make sure to keep it short and straightforward, one step at a time. 
Once the purchase price is settled, then you can discuss the trade-in if you have one but make sure to do your homework before discussing this part. Do your research online to see what your current car is worth. You can check out free pricing guides at Edmunds.com, Kelley Blue Book, and NADA. Don't be afraid to walk away if you feel the dealership is lowballing you on your current car. You have plenty of good options out there these days.
7. Do your research
Researching the car you want to purchase is crucial before heading to the dealership. You need to know what type of cars fit your price range and budget. If you plan to buy a new car, find the "invoice price," not the MSRP, the manufacturer's suggested retail price. 
The invoice price is how much a dealer pays the manufacturer for a car. This information will come in handy once the price negotiations begin. If you're planning on buying a used car, find out the recent resale price for that specific car model and year. This data will help you bargain better. If you're trading in your current vehicle, research market values for your car as well. Knowing the value of your trade-in can also help you bargain.
8. Don't stick to one place or a specific car. Shop around!
When you're prepared to walk out of a dealership empty-handed, salespeople will often offer you the lowest price to get you to buy before you leave. It's tough when you have your heart set on a car, but make sure to walk out of at least two dealerships to see which one gives you the better deal. Exploring out-of-town car dealerships is also a good idea, as dealerships price their vehicles differently depending upon their location. Remember not to buy impulsively or hastily. The more you shop around, the better deal you will find.
9. Buy a car that's within your budget
If you want to buy another car before paying off your current vehicle, you should reassess whether you can afford to buy another vehicle or not. The last thing you want is to burden yourself with an upside-down car loan. 
It's better to wait until you have paid off your current car and then put into a savings account the money you used to put toward your monthly car payment while keeping your old car. For example, if your car payment was $200 per month and you follow this strategy for one year, you'll have more than $2,400 to use as a down payment on your next car. Make sure to buy within your means and not use your savings or emergency fund to buy the car. 
10. Negotiate Terms
Purchasing a car is one of the most important investments you will make besides buying a house. You will be paying off this car for the next three, five, or six years every single month. It's a huge commitment. 
This is why even though it might be uncomfortable, it's important to be firm with salespeople and do everything in your power to negotiate the car loan and purchase price as low as possible. Start with an absurd number and work backward. If the salesperson offers you an attractive monthly payment based on a 60-month loan, tell them you want the same monthly payments but on a 48-month loan. Walk into the dealership full of confidence, and don't be afraid to walk away from offers. It would be helpful to practice your negotiation skills to be fully prepared.
11. Test drive the car
Test driving the car you want should be one of your highest priorities when car shopping. You want to test drive the vehicle for many reasons, one of the most important ones being comfort and safety. Some cars may look fantastic, but if you're not comfortable driving it, then it's best to move on. It's also important to take notes if the car drives smooth and quiet, you can see well through the mirrors, controls, and air conditioning are all working fine, and it's easy to use. Make sure the car responds when you push the accelerator or brakes—all of this plays a factor in your purchasing decision.
12. Visit a mechanic if buying a used car
If you're buying a used car, it's essential to have the car thoroughly checked out by a mechanic before finalizing the purchase. They can inspect the car for you and look for unusual signs of wear and tear, as well as potentially concerning issues. Any mechanical or maintenance problems the mechanic finds may determine whether you buy the car or not. The mechanic's report may also provide you with leverage to negotiate a lower purchase price.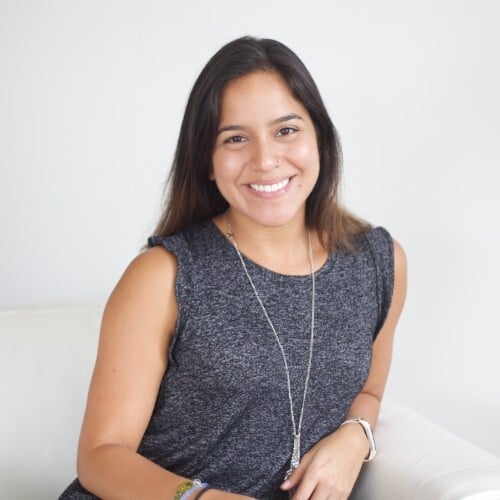 About the Author
Stephany Lamas
Stephany joined the RentReporters Marketing Team in 2021.