17 Things to Consider for a Better Rental Experience
Renting Tips
January 21, 2022
13 mins read
There's a lot to think about and consider when renting, such as should you get a roommate? Do you need a co-signer? And so many more! If this is your first, second, or third rental experience, different things can make your rental experience easier, cost-effective, and less stressful. We gathered the top 17 things to consider to have the best rental experience. 
1. Report your rent payments
Many renters don't realize rent payments have not historically been accepted as data sources for calculating credit scores. For most renters, this means that the most significant recurring expense they diligently pay each month – has ZERO impact on their credit score.

RentReporters help renters improve their credit simply by reporting their monthly rent payments to the major credit bureaus.

2. Price: upfront costs & long-term costs
The first question to ask yourself is: how much can you realistically afford? Be sure to consider the upfront costs like application fees and deposits. If you have pets, you will also need to look at the pet fee and add it to your budget. We recommend doing online research to get a sense of the typical rental rates in the neighborhood and then having a few months' rent already in your bank to cover all the costs mentioned above.

The next thing to consider is the long-term costs because rent and initial fees are not your only expenses. Long-term costs include monthly utilities like electricity, gas, internet and cable, water, sewer, trash service, groceries, gas unless your landlord covers a few of the utilities. So it's important to ask your landlord or to research to get an estimate of how much you'll spend on utilities and include them in your monthly budget.

3. Paperwork preparation

During your rental process, a property manager will require a list of paperwork from you such as:
Pay stubs 

Bank statements

Proof of identification

Recommendation letters

Vehicle registration & proof of insurance

Rental history

Social security number
Make sure to have this ready for a smooth process and fast application. 
4. Co-signer
You may need a co-signer if you have a low income, poor or no rental history, or poor credit. A co-signer is someone who would be responsible for paying for your rent if you're unable to do so. Note, they don't have to live with you in the property you are renting, but their name will be on the lease. If you don't need a co-signer, it would be helpful to collect a few reference letters you can bring with you when you turn in your rental application. These can help convince the property owner that you'll be a good tenant.
5. Rental type & quality
It's important to know the type of apartment you'd like to get: is it a studio, loft, multi-level unit, duplex? You have many options, and figuring out which one will work best for you and your budget is essential before apartment hunting.

Once you've decided on the type of apartment you want and start your search, make sure to arrange to see the place in person. Don't trust all the nice pictures you see online. It's good to know that cosmetic issues, such as worn carpet or scratches on the wall, may be fixed by your landlord. However, it's recommended to check thoroughly for infestations, leaky faucets, hot and cold water supply, water damage, dirty air filters, mold, broken heat and air conditioning systems, broken windows, and electrical problems. Your landlord should ensure these are all fixed before you move in.

6. Rental size
Considering the size of rental you need will help you narrow down your apartment search. How much space do you need or want? Do you want a two or one-bedroom apartment? Do you really need three rooms? Bear in mind, the bigger the apartment, the more you'll spend each month and on the upfront costs.

7. Know your landlord
Having a good landlord is essential for a great rental experience. However, if you have a landlord with bad ethics, attitude, or a lack of boundaries, you may end up in a rental nightmare or, even worse, a courtroom. Try to meet with your landlord in person or have a few conversations with them on the phone to prevent this from happening. If you're moving into an apartment with roommates or if you happen to see kind tenants walking by, ask them about their overall experience with their landlord.

8. Roommates
Getting roommates or moving in with a roommate is most likely a financial decision. If you plan to get a roommate, pick wisely and carefully and make sure you screen them and get to know them before agreeing to live with them. Ensuring that your lifestyle matches will help decrease the likelihood of issues arising. Once you have decided the roommate (s) you want, have everyone sign the lease and work together to write out a roommate agreement. This protects you against any clashes you may have about paying bills, cleanliness, noise, and more.
9. Neighbors
Bad neighbors can make or break your rental experience. Similar to your roommates, carefully consider the potential neighbors you'll have. If you're moving in with roommates that already live there, ask them about their experience with their neighbors. If they start complaining about various neighbors, RUN the other way. The last thing you want is to deal with inconsiderate neighbors.

10. Location
Consider your commute time from home to work and back and the proximity to grocery stores, restaurants, and recreation when picking a location. You don't want to drive too far to get groceries, an oil change, or eat at a good restaurant, nor do you want to be stuck in traffic for hours before or after work. Having a few walkable options is also a plus.

Another thing to consider is the neighborhood itself. Walk around to get a sense of the community. You'll be able to assess the average age and demographics of the neighborhood. Investigating the area's safety record is crucial as well. To do this, check out some of these sites:
11. Lease
Be sure to understand the lease completely before signing it. If it's too difficult to understand, you may want to hire a realtor or attorney and if those are out of the question, possibly reconsider signing the lease entirely. You can also ask questions to your property manager before signing it to get clarification. Don't forget to check the policy on late rent, what actions lead to eviction, the length of lease, when the rent is due, if roommates or pets are allowed, who is responsible for maintenance and when, and if your deposit is refundable and under what conditions.

12. Pet policy
If you have pets or want to get one, make sure the apartment you want to rent allows them before signing or committing to anything. You don't want to risk not bringing your pet with you. You can ask the property manager what pets they allow or not and the type of breed or weight limitations. Most pet-friendly buildings have a pet deposit (sometimes refundable) or a monthly pet fee, so it's good to know how much to budget for that.

13. Utility costs
Sometimes utilities may be included in the rent. This can be water, gas, air conditioning, sewer, garbage, electricity, etc. You can ask your landlord who pays for what before signing the lease. Your lease will also clearly outline what utilities you are responsible for covering.

14. Amenities
Make sure to consider amenities when choosing your apartment. For example, would you like a unit laundry to clean clothes daily? Would you love to have a pool on-site? Would you like extra security? Do you need an on-site gym to go to every morning? Do you need an elevator? Would you like a dishwasher in the apartment? These are a few essential things to consider and to make a list of when choosing an apartment to ensure you have the best rental experience.

15. What you need & don't need
Once you have chosen your apartment, signed the lease, and have a move-in day in place, you need to start thinking about what you need and don't need to bring to your new apartment. Start with the basics and essentials first. Take inventory of your furniture to see which one you would like to donate, sell, or keep. You can also begin buying necessary things like sheets, towels, cleaning supplies, and paper products if you don't have any. Buy items based on what you can afford and what you need.
While you may want to buy everything and not get rid of anything, try to realistically look at what you want versus what you need and assess if all will fit in your new apartment. Splurging from time to time is perfectly fine, but you don't want to feel crowded by all the stuff in your apartment and overspend for no reason.
16. Move-in plan
You have two options for move-in day: moving things yourself with hopefully the help of friends and family members or hiring professional movers. If you don't want to deal with the logistics that come from doing it yourself, search online and call a few local moving companies to get quotes, put down a deposit, and schedule it. If you want to do it yourself, make sure to rent your moving van and ask friends or family members for help. Be ready, buy all moving supplies a few weeks before the big day, and begin packing in small increments to ensure you aren't doing it all at the last minute. You'll need cardboard boxes of all sizes, packing tape, tape guns, permanent markers to get you through the move. Don't forget to label all your boxes, so you know where everything is, and it's easy to find.
17. Need more moving tips?
For more information on how to make moving apartments easy and less stressful, check out "Tips for Making Moving Apartments Seamless"
While there are many things to consider, the most important thing is to figure out what you can afford and then go through the rental process carefully to have the best rental experience.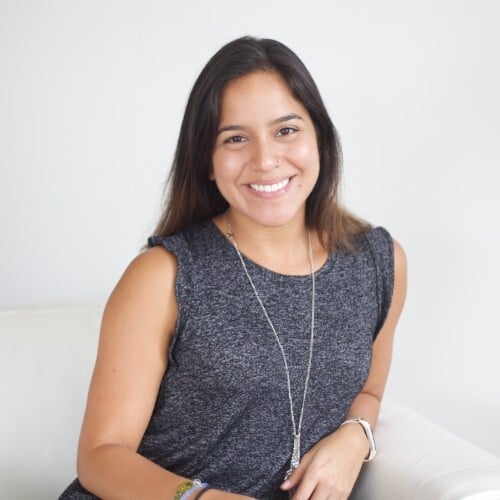 About the Author
Stephany Lamas
Stephany joined the RentReporters Marketing Team in 2021.