How Much Down Payment Do You Really Need To Buy a House?
Homeownership
June 9, 2022
10 mins read
Saving enough money for a down payment can be one of the most challenging parts for potential home buyers. Having an idea of how much you will need is helpful, but how much of a down payment do you REALLY need? This depends on various factors, such as the house you want, the type of loan you get, your lender, and finances.
What is a down payment?
A home down payment is part of the purchase price you pay upfront in cash, out of pocket, to secure the loan. Banks do not typically provide 100% of the cash needed for a purchase, which means the mortgage lender does not provide the down payment via a loan.
They only provide the rest of the money to buy the property. The down payment is your endowment toward the house purchase and represents your initial ownership stake in the home.
Down payments are typically shown as a percentage of the price. For example, a 10% down payment on a $250,000 home would be $25,000, which means you'd take out a mortgage for the remaining $225,000.
It is also good to note that although lenders require a down payment for most mortgages, a few types of loans backed by the federal government may not require a down payment.
What is the minimum down payment requirements?
Most people will tell you you need to make a 20% down payment on a home, but that's rarely the case – you don't have to make a 20% down payment to buy a house. Very few lenders require a 20% at closing, and this is just the threshold lenders use for not requiring private mortgage insurance, or PMI, on a conventional loan. 
The minimum down payment depends on the type of mortgage you apply for.
What is a PMI?
Private mortgage insurance is a type of insurance that is often required for conventional mortgage loan borrowers. PMI is based on insurance rates that can change daily. PMI typically costs 0.5 – 1% of your loan amount per year. 
For example, if you buy a $200,000 home, you would be paying anywhere between $1,000 – $2,000 per year in mortgage insurance. This cost is broken into monthly installments to make it more affordable. You're paying between $83 – $167 per month in this example.
Having a good credit history and high credit score can lead to a lender charging less in PMI premiums because you've shown you're a responsible borrower who pays back what you borrow.
However, if you have a low credit score, your lender may question your ability to manage your debt responsibly, leading to higher PMI premiums.
Different Mortgage Types
FHA loan – as low as 3% – 3.5%: An FHA loan is a government-backed mortgage loan that allows you to buy a home with looser financial requirements.
For example, you may qualify for an FHA loan if you have debt or a lower credit score. You might even be able to get an FHA loan with a bankruptcy or other financial issue on your record.
You need a down payment of at least 3.5% and a credit score of 580 or higher for an FHA loan. If your credit score is between 500-579, you'll be required to put down at least 10%.
Conventional loan – 3% – 5% down: A conventional loan is a type of mortgage loan not insured or guaranteed by the government. Instead, the loan is backed by private lenders, such as banks, credit unions, and mortgage companies, and the borrower usually pays its insurance.
A borrower must have a credit score of at least 620. A debt-to-income ratio of no more than 45% and a minimum down payment of 3%, or 20% with no PMI. 
Conventional loan requirements for primary residences are totally up to the individual lender. For example, some lenders might require you to have 5% down, while other lenders may only require 3%. 
VA & USDA loan – 0% down: this loan is for current and veteran military service members and eligible surviving spouses who don't need a down payment to qualify. Specific length-of-service requirements determine your eligibility, and your discharge reason also plays a role. You can view complete service requirements for the VA loan program on the Department of Veterans Affairs (VA) website. 
USDA loans are backed by the U.S. Department of Agriculture's Rural Development program and have no down payment requirement. USDA loans are for rural and suburban home buyers who meet the program's income limits and other requirements.
Jumbo loan – As low as 10%: A jumbo loan (or jumbo mortgage) is a type of financing where the loan amount is higher than the conforming loan limits set by the Federal Housing Finance Agency (FHFA). The 2022 loan limit on conforming loans for 1-unit properties is $647,200 in most areas and $970,800 in high-cost areas.
Because the GSEs can't guarantee these outsized loans, lenders tend to ask for higher down payments to offset some of the risks.
Pros and cons of a larger down payment
Pros:
Better mortgage interest rate
The interest rate is the percentage of the principal, or outstanding balance on your mortgage, that your lender charges you monthly for borrowing money. If you can put down at least 20% on your mortgage at closing, you may have access to lower interest rates.
The higher your down payment, the less of a risk you are to lenders, which may lead to lenders shaving a few fractions of a percentage point off of your interest rate or more favorable terms. An interest rate that's just one or two points lower can save you thousands of dollars over the course of your loan.
No PMI and more equity
To avoid buying PMI, you'll need to put 20% down. PMI is insurance that protects your lender if you default on your mortgage loan.
Your home equity is the percentage of your home you actually own and is calculated by taking your home's value and subtracting the amount you owe on your mortgage loan. Because you gain more equity in your home as you pay it down, your home is considered an asset rather than a liability like renting. More equity means more wealth. 
A lower monthly mortgage payment
The more down payment you give, the less money you'll borrow for your mortgage loan, which means you'll pay less interest over the life of the and the smaller your monthly mortgage payments will be. 
Competitive edge over other buyers
Having a 20% down payment makes you a more attractive buyer to home sellers because this indicates that your finances are in order. This will also give you fewer problems finding a mortgage lender and give you an edge over other buyers, especially if the home you want is in a hot market.
Cons:
A financial risk
If the down payment is the only savings you have, and you put all that money down on your mortgage, it won't be easy to get it back. If you think you might need the money later for something important or urgent, it may be wise to put down less and build your emergency fund first.
Less money for repairs and upgrades
The larger your down payment, the less money you'll have leftover for repairs and upgrades, which do need to be factored into your budget. You'll be responsible for maintenance and repairs when you own a house, unlike when you rent. If the house you buy needs some work or repairs, you may need that extra cash to be able to do the fixes. 
Longer time to save
Waiting until you have a 20% down payment can take months, years, or even decades and lead to a loss when you factor in what you'd spend each month on rent. Therefore, it may be more affordable and wiser, in the long run, to buy a home now than it is to pay rent while you save up for a 20% down payment.
So how much do you really need?
Your down payment will depend on your finances and goal, which looks different for everyone. Looking at what you can afford and how your down payment will affect how much you'll pay each month is recommended.
While there are many advantages to giving a larger down payment, putting down too much could leave you little leftover for essential items. You want to ensure your down payment leaves you with enough room to cover all the costs of buying a house.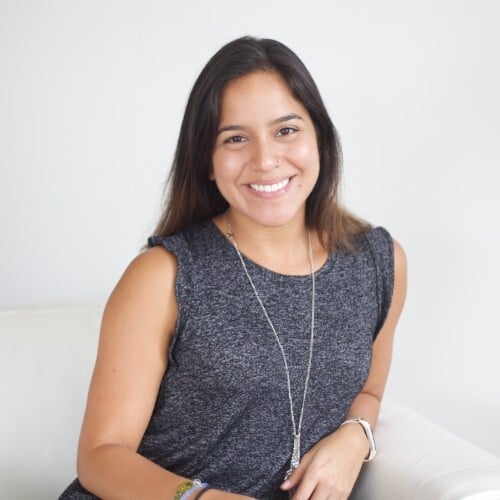 About the Author
Stephany Lamas
Stephany joined the RentReporters Marketing Team in 2021.