Many first-time home buyers unintentionally make several mistakes in the mortgage and home-buying process. So when buying a house, you must follow a few best practices and avoid common mistakes to ensure your home buying process is smooth and successful. 
Here are some of the most common mistakes to avoid. 
Don't finance a car or buy furniture on credit
Financing a car or purchasing new furniture and appliances on credit is the biggest mistake you can make before buying a house. This makes you a less attractive borrower to a lender as it increases your debt-to-income ratio (DTI). It will also change the state of your credit, and it could jeopardize the loan approval. 
The best thing to do is ​​to avoid making any big purchases or financing a new car for six months or a year before you want to purchase a home to ensure you get your dream home. 
Don't max out credit cards
Maxing out your credit score will lower your credit score, increasing the cost of your loan and offset your income resulting in you qualifying for less mortgage financing. 
If you owe $3,000 and your limit on the credit card is $3,500, your card is almost maxed out, and it will drastically reduce your credit score, which means higher interest rates and monthly payments when getting a loan. 
To get the best mortgage rate and keep debt levels down, keep your credit utilization below 30% of your total credit limit. For example, if your credit card limit is $5,000, try to maintain a balance below $1,500, and if you can, pay the card off in full every month. 
This will improve your credit score, reduce your debts, and help you qualify for the best possible mortgage loan.
Don't miss loan payments
Keeping all your loan payments current and in good standing is imperative. Lenders will look at your credit again before finalizing your mortgage, and if you have any late payments, it may lead to you losing the loan.
Don't assume that you are good to go once a lender issues their loan commitment because that's not the case. Lenders have the power to revoke a mortgage commitment and will do so if they see fit. Make sure to pay all your loans and credit cards on time to avoid delaying the purchase of your home or losing thousands of dollars. 
Don't quit or change your job before buying
One of the things lenders look at is your employment history. They want to ensure you are financially stable and will be able to pay your loan payments on time every month. This is why changing jobs in the middle of purchasing a home is not a good idea. 
Showing consistent employment is essential when applying for and getting approved for a mortgage loan. Aim for consistent employment history of two years or more at the same employer or at least in the same line of work.
Short employment history will make you a less appealing buyer to lenders and may cause them to think you are unstable or that you won't have a steady income. Therefore, it's best to wait until closing is completed to change jobs. 
Don't assume you need a 20% down payment
Most first-time home buyers assume they need to save a 20 percent down payment to buy a house.
While saving and having a 20 percent down payment has advantages, such as avoiding private mortgage insurance (PM), it's not always the best idea. 
Waiting until you save 20 percent down can delay your home buying timeline by years. The longer you take to buy, the higher the home prices will be, which means you'll need an even bigger down payment.
Several loan programs are available that require little to no down payment. These include:
A 0% down VA loan (available to qualified military/veteran borrowers)

A 0% down USDA loan (available in select rural and suburban areas)

A 3.5% down FHA loan

A 5-10% down conventional mortgage
Don't shop for houses without getting preapproved
You probably have no idea how much you can afford until you get preapproved by a lender. This is why you must get a mortgage preapproval before going house hunting. You could be setting yourself up for disappointment if you don't do so. 
If you find a house you love, and afterward, you try to get preapproved for a loan, the home may be gone before you finish getting preapproved. It's also important to note that most sellers want to show their home to serious buyers only and will request a preapproval letter from the buyer.  
The preapproval process involves applying with a lender who will check your income, credit history, and assets. After verifying these documents, a lender can approve you for a home loan and tell you your real price range.
Don't go with the first mortgage lender that approves you
You're excited and ready to buy a house right away, so you go with the first mortgage lender that approves you. That's a big mistake!
While many lenders' rates are very close in price to one another, some lenders charge rates that are above average. Getting a loan with a higher interest rate can be very expensive in the long run, so be sure to look around and get quotes in writing from at least 3 to 5 different mortgage lenders to get the best deal. 
Another big mistake prospective home buyers make is going with their longtime bank, thinking they will provide the best deal for them. Unfortunately, big banks are typically more expensive in interest rates and closing costs than a good mortgage broker or other lenders. 
When you're getting quotes, try checking with a few different types of lenders. Check rates at your current bank and look at online mortgage lenders, credit unions, and maybe even a mortgage broker.
Don't make big financial changes before closing
While going through the underwriting stages, your lender will re-check and verify your income, assets, debt, and property details and issue final approval. But don't think the purchase it's finalized. Nothing is official until you've signed the final closing papers.
While you wait, avoid making significant financial changes such as purchasing a car, significantly increasing your credit card balance, opening up new credit cards, changing careers, and applying for new loans or lines of credit. 
It may be tempting to use the extra funds you have to buy thousands of dollars worth of furniture or open up a Rooms to Go credit card. Doing this can easily tip the delicate balance of your debt-to-income ratio (DTI) and hurt your creditworthiness so that you no longer qualify for a loan.
Maintain a quiet financial period before closing, and don't do anything that could jeopardize your final approval and your home purchase.
Don't start banking at a new institution
Similar to changing jobs or finances, your banking history and status are part of the process of getting pre-approved. If you change your bank, you may not get final approval from the lender. 
Even if your bank made you angry or you saw a great offer from a different bank that you don't want to pass up, you may wish to reconsider passing up because changing banks before getting the loan can disrupt everything, so avoid changing banks until you have closed on the house.
Avoid being a co-signer for anyone
No matter how badly you want to help a friend or family member, try to avoid co-signing a loan. When you co-sign a loan, you commit yourself to a financial obligation, even if you're not the one making the payments or the primary person on the loan. At the end of the day, if the lender needs money and cannot get it anywhere else, they will come looking for you to pay.
Mortgage lenders are well aware of this fact and therefore disapprove of any applicant who decides to co-sign. Along with the points listed above, you need to focus on keeping your credit and financial situation stable and constant until you sign the final closing documents.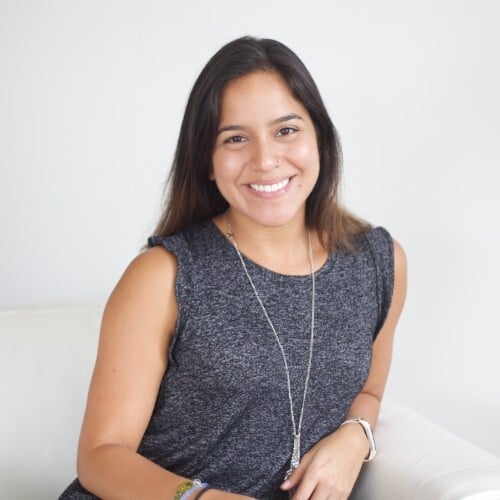 About the Author
Stephany Lamas
Stephany joined the RentReporters Marketing Team in 2021.